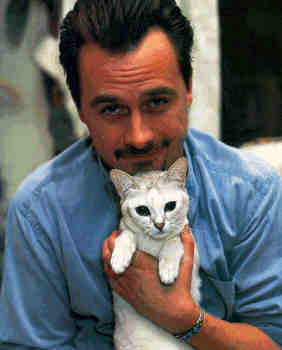 There are few authors who can hook me from the first page. Most books take a hundred-or-so pages to get "into", and there have been quite a few I've given up on before I've even got that far. I'm a slow reader, with a backlog of several hundred books to get through, so every book has got to work for its living.
Michael Marshall Smith is one of those few special writers who captures your attention on the first page, and manages to hold it to the very last. I started that first page on a flight back from London (well, actually on the train to a flight back from London). Normally I don't like reading on planes (I tend to spend a lot of time looking out the window at the wrong side of the clouds). However, on this occasion I found myself absorbed into the book, only interrupted by that annoying airline meal they insist on feeding you, and before I knew it we were landing in Dublin.
The book was, of course, Only Forward, and I have been hooked by Mr Smith ever since. It tells the story of Stark, a privite eye in a slightly futuristic world. When he's contracted to find a missing executive, he doesn't expect to uncover gremlins from his own past.
His second novel, Spares, is equally enthralling, telling the story of a group of clones kept as "spare parts" for their rich owners.
His most recent novel, One of Us, explores ideas surrounding memory transfer. The main character is a "REMtemp", who makes his living by having other people's anxiety dreams for them. When he wakes up to find himself with the memory of someone else's murder in his head, he's in big trouble.
He has also written numerous short stories, a selection of which were published last year in the anthology What You Make It.
Born in England, Smith's family moved to the US when he was one, where he spent most of his early childhood. They then moved to South Africa and Australia before returning to England. Although he lived in England for most of his teenage years, he still returned to the States for many visits. He still visits on a regular basis "to stock up on Tootsie Rolls, good salad dressings, and to eat good Mexican food".
He studied at King's College, Cambridge where he became involved with the Cambridge Footlights, a comedy group which produced many of the Pythons.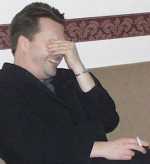 After college, he worked in several "normal" jobs, producing corporate videos and ending up as a freelance graphic designer. While he was doing this, he started writing short stories. His first story, The Man Who Drew Cats, won the British Fantasy Award, which encouraged him to write more.
He wrote his first novel Only Forward, which was well received and won several awards. His second and third novels were immediately optioned and production of the movie Spares will be starting soon. Although he is not currently involved in the screenplay adaptions, he has also been working on several other screenplay adaptions and television projects.
He lives in North London with his wife Paula and their two cats.
Michael Marshall Smith links: