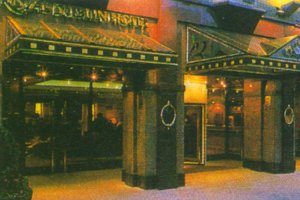 The Royal Dublin is a large hotel with an elegant Georgian style. Situated in the very heart of Dublin, there are theatres, shops, eateries etc. Plus, you cannot leave without falling into a pub (there are just too many of them!) But then, why would you want to leave when there's everything you need inside?
The bar is large, dimly lit and comfortable. The beer is cold, the Guinness is smooth and the service is attractive!
The restaurant is adjacent to the bar (which is always a bonus) and is one of the best in Dublin. For those of you who eat meat, the steak comes highly recommended, and for those of you who don't, everything else is good too! Especially the mushrooms! They have a decent wine list and are very reasonably priced.
There's a good-sized residents lounge. The chairs are plush, the tables are low and the staff are highly attentive.
The lobby is large and airy and they actually have a genuine bellhop complete with uniform and silly cap!
Oh, and the toilets are clean and the mirrors in the ladies are fantastic.
Please Note: Room availability in the convention hotel is extremely limited. If you wish to stay there, please contact them immediately. Alternatively we recommend Cassidy's Hotel which is also extremely nice, and a lot cheaper.
Address: O'Connell Street, Dublin 1