O2K: Latest News
1 Nov 2000: O2K Photos Now Online!
Octocon 2000 has now taken place and was agreed by all concerned to be a huge success.
Click here to see the photographs!
Details of Octocon 2001 will appear here shortly.
10 October 2000: Cheap Flights to Octocon
We've just heard the Ryanair are selling off some very cheap flights. With prices from £25 including taxes from the UK, this is one of the best deals we've seen in a long time. You can book these on their website, www.ryanair.com or by phoning 0870 333 1231 (UK).
(Note: Most of the cheapest tickets have now gone, but there are still some good deals to be found).

10 October 2000: No LARP at Octocon
Due to a lack of interest the Live action role play, the Mourningstar has been cancelled. Anyone who has already paid will get their money back on the door when they come to the convention.

10 October 2000: Film Premiere
We are very proud to be showing the world premiere of John Vaughan's original horror film, The Bogieman. We know John has put a huge amount of work into this film, and we are very proud to be showing it at Octocon. John will be present to talk about his film, and he will have props and still photos from the making of The Bogieman.
10 October 2000: Special Treat for Star Wars Fans
Another first for Octocon is the first Irish screening of an original film set in the Star Wars universe entitled The Jedi Who Loved Me. Yes, we were worried too when we heard about it, but we were amazed by the finished film, which has a good story and amazing special effects.

5 October 2000: Live Radio Broadcast at octocon!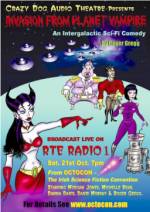 We are pleased to announce that Roger Gregg's original radio play, Invasion From Planet Vampire will be broadcast live from the convention on RTE Radio. The broadcast will take place at 7pm on Saturday evening, before the Masquerade and Costume Party. This is an exciting new direction for Octocon and will be one of the highlights of the weekend.
Click here for more information.
1 September 2000: Credit Card Booking
We are now able to accept credit card bookings on our website. We hope this will simplify the process of joining for those that have not already done so.
Click here to join online now!
15 August 2000: Jo Fletcher cannot attend
I regret to have to annouce that Jo Fletcher has informed us that she will not be able to attend Octocon this year for health reasons. I'm sure you all join with me and the committee in wishing Jo a full and speedy recovery, and we look forward to seeing her at future Octocons.
The committee will, of course, seek a replacement guest, and will make an announcement in due course.
9 Jul 2000: Radio Play at Octocon 2000
We've just confirmed that a live broadcast of an original science fiction radio play will take place from Octocon 2000.
This very exciting event will take place on Saturday evening before the Masquerade and Costume party.
Please see the Radio Play page for more details.
20 Apr 2000: Apply for Octocon memberships online!
Octocon memberships may now be applied-for online at our membership application web page.
Please fill in your details on the form at www.octocon.com/joinup.php3 - your application will be emailed to us, and marked as "provisional" until we receive payment. Further instructions regarding payment etc. will be given to you on the web page.

2 Mar 2000: Michael Marshall Smith confirmed as GoH
The Octocon committee has confirmed that Michael Marshall Smith will be Guest of Honour at Octocon 2000.
Smith, well-known and well-respected author of the novels Only Forward, Spares, One of Us and Vaccinator and of numerous award-winning short stories, is currently working on a fifth novel, The Straw Men, and has screen adaptations of Modesty Blaise and Dirk Gently's Holistic Detective Agency in the pipeline.
We know he'll make an excellent Guest of Honour at Octocon 2000, and we look forward to welcoming him.

26 Jan 2000: O2K Confirms New Venue
Octocon has a new home!
The committee today announced that the Royal Dublin Hotel in Dublin's O'Connell Street will be the new home of Octocon. The dates have been confirmed as 21-22 October 2000.
Although it is with some sadness that we leave the Royal Marine Hotel, we believe that the new venue gives us a lot of scope for creativity in running the convention, and the city centre location will make the convention more accessable to a lot of people.
Please join our mailing list to receive news by email as it becomes available.